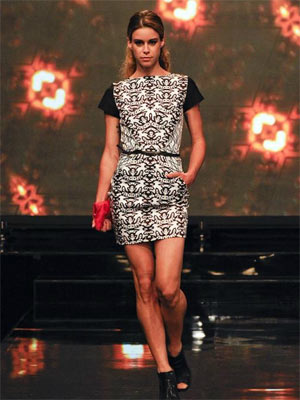 Anya's dress, the winning look credit
Okay, I LOVED this challenge. I love fabric, and I've toyed with the idea of designing my own and having fabrics printed. It's pricy, but a neat way to express yourself.
In typical Project Runway fashion, we had another group challenge! Two teams were formed... but they were completely lopsided. I mean, having Josh/Bert/Becky on one team?! Ugh. I have a problem with Becky... she gets so wrapped up with what everyone else says, it causes her to get extremely upset and defensive. She needs to step back and let her work speak for itself and not be a crybaby.
In terms of the fabrics, I felt Team Nuts & Bolts had very literal fabric. I did not like the cogs and clocks. I'm not surprised at all that Josh and Becky ended up in the bottom. I think Josh ended up there simply because he doesn't work well with others. He would be a difficult designer to work with as a client, I believe... I don't see him making it to the final three. And his look was not great today.
I would wear Anya's dress! I love it! She has proven she deserves to be there. And Anthony Ryan totally redeemed himself in my eyes. Love him all over again. Olivier and Viktor both had great pieces, and Olivier's jacket was awesome... they just weren't something I'd see myself wearing. Team Chaos just kicked some butt overall. It was cohesive and sophisticated! Even Bryce's look worked, and I felt he was the weak link.
The judges made the right decisions. I loved Anya's dress from the moment it came down the runway, and I thought Becky's look was weak. I'm actually glad I don't have to watch Becky on the show anymore, because she and Cecilia are just miserable to have to listen to. Negativity, be gone!
SIDENOTE: Does anyone else feel the judges have been voting people off the show based on overall performance, not their performance during a particular challenge? I think the winners are consistently the best from each challenge, but it seems the judges are very likely to send someone home who has been consistently bad and forgive the occasional SNAFU from someone they feel is more talented overall. Even Heidi has commented that the judges are doing this... not sure how it makes me feel, because it has always been about the challenge and not the designer overall.