Ha! I knew that title would grab your attention. Actually, this post is about bras. And how, if you're like me, you've been wearing the wrong size for years.
http://www.wacoal-america.com/shop/petite/bras/
It all started back in high school, when the closest thing to a bra that I owned was a "bralette". Let's be honest, I lived in my sports bras back when I was a runner. And I could do that, because (I'll admit it right here!) I'm a small-chested woman. So I just wore whatever size my Mom bought for me. When I was older, I went to a certain big-name lingerie store and was pressured into buying the closest fit they had for me. Even though there was definitely gaping at the cup which didn't do me ANY favors, I couldn't find anything better, so I have bought the same bras for years.
(To make matters even worse, my sister has been blessed with dream boobs. Blah. She never has these problems.)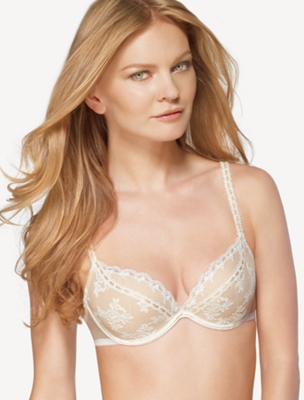 Wacoal Petite
Today, at the recommendation of my friend LC, I went to
Soma
to get a bra fitting. The girl who did my measurements was shocked at the bra I was wearing, because the fit was so clearly wrong for me. And then she delivered the news... my bra size was 36AA.
AA?!
The store didn't even carry anything in my size
(most stores only carry A-cups, and many bra lines start with B-cups)
, which was unfortunate because the staff was SO helpful and sweet about taking care of me. They even referred me to another store, American Eagle's offshoot
aerie
. Again, I ran into a sympathetic and helpful salesgirl. While I fell in love with the one bra in the store than ran small and fit beautifully (
the Abigail
in 36A), they didn't have the size or color I needed, and their website only carries 34AA, not 36. I seriously wanted to cry, because I couldn't imagine having a size that a store wouldn't carry. The sweet salesgirl told me to try a department store, so I marched over to
Dillard's
, still stinging from shock. There, another salesgirl helped me find the first bra that has ever truly fit me, a 36AA from the
Wacoal Petite
line.
When I was in the fitting room, looking in the mirror at this bra that fit, it was a bittersweet moment. I was mortified, because getting the 36AA "diagnosis" snapped me into the reality that I was, undeniably, small-chested. And yet it was thrilling that this bra fit so beautifully and made me look GOOD!
I purchased the one bra they had in my size (even stores that carry the line don't have everything in stock), and then hit the Internet when I get home. Happily, I found some great bras on Wacoal's website, even some on SALE! (I had already given up hope of finding anything in 36AA at an actual store, let alone at an affordable price; these start around $50 each.)
Though my confidence was shaken initially, I'm now here, loud and proud on my blog, declaring my love for this line of bras... because someone has to speak up for the 'little' women out there! So, unless someday there is a big change in my future
(augmentation?)
, Wacoal Petite has made me feel like a woman again. And I can't put a price tag on that.
P.S. THANK YOU to those salesgirls who were so genuinely supportive and sympathetic to my struggle to find a bra that fit!!!