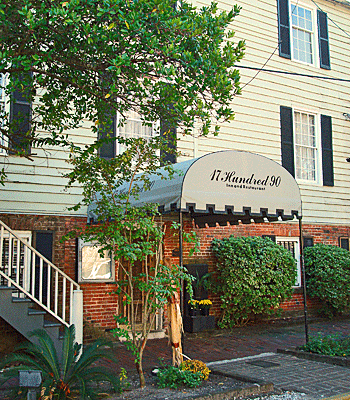 Today was the end of
Savannah Restaurant Week
, a great time to check out some of the best restaurants the city has to offer! The deal is you get a three-course meal for $30, which is a steal compared to the normal pricing.
Last night I went with LC and PD to check out
17Hundred90
, a restaurant/inn that I had never been to before. I'd heard good things about it, so we decided to give it a try.
Boy, did I overeat! I started with their crabcakes, which had so much flavor packed into them, not to mention a great lemon dill aioli to top it off. Then I had the hanging tenderloin, which had a bourbon demi glace that really made the steak taste delicious. For sides I had mashed sweet potatoes and an amazing sun-dried tomato risotto. Lastly, I finished off with the chocolate bombe. And for $30, it was a steal.
That being said, I had a stomachache the whole night from overeating, and from it all being so rich! I think it was great, but I'm not sure if I'll head back there again. There are so many great places to eat in Savannah, I realized I need to try some more variety! I really want to check out Vic's on the River, Local 11 Ten, 700 Drayton, and Broughton & Bull (which replaced Il Pasticcio). They are all pricy, so I'd better plan these for special occasions!
Not concerning food...
Today was nice Sunday for me. I spent the afternoon/evening babysitting for friends. RH and AH have the most adorable two-year-old girl who is contagiously happy and good. I'm not the most experienced babysitter, and I don't always like kids. That being said, I would babysit this girl for free anytime, because she's hilarious and makes me feel like I could possibly handle a rugrat of my own someday. I even gave her a bath, which is not something I consider a usual part of my babysitting repertoire. Give me a decade, I'll have this figured out.